Passion Fruit
An amazing combination between passion fruit puree and the crusty macaron, very smooth.
Each confection is covered in milk chocolate.
A taste of tropical passion in every bite. The passion fruit is also growing in other markets as yoghurt, juices. Exotic flavor is one of the key future growth drivers for the confectionery market.
Perfect treat for a fruity indulgence.
Key lime
The Key lime is (Citrus aurantifolia) is a small, yellow-green, seed-filled fruit that sailed to the New World with Christopher Columbus on his second voyage in 1493.
Key lime is appreciated for its unique flavor compared to other limes, usually having a sweeter and bitter, sour flavor. LIMITED EDITION.
The key lime ganache inside the macaron makes you travel to the Keys in Florida. N#1 Flavor for the pie with the delicious Key Lime Pie, contrasting flavor between the creamy milk chocolate and the freshness of the ganache center. Innovation in texture, shape and filling: unique and exotic ingredients. Only supplier to provide a chocolate macaron shape with key lime.
Coconut
Real grated coconut.
The combo between milk chocolate, natural vanilla and pieces of coconut makes an incredible taste.
The coconut is also growing in other markets as water, milk, oil & snack. This ingredient continues to be an emerging trend. With its color and natural flavor it will give you the feeling to escape in a sunny destination.
"Coconut in confectionery hits the sweet spot intersecting better for you and indulgence," says Candy & Snack TODAY Trends Editor Joan Steuer, of Chocolate Marketing, LLC.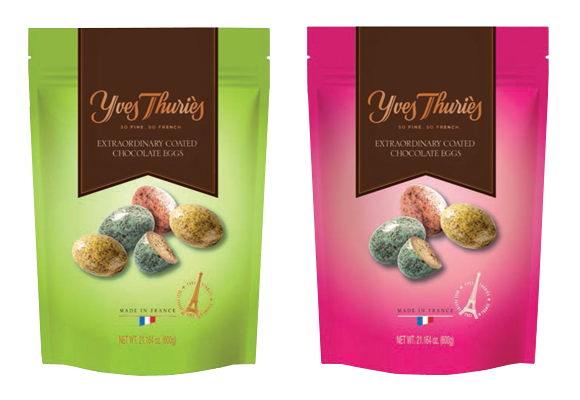 Stand up bag with Marvelous eggs 600G
3 recipes of filled eggs: Crispy cookie, Almond praline and Ganache with caramel center.
Pick your favorite in this large bag to tripe the pleasure ! Hide these marvelous eggs in the garden or nicely decorate your Spring table there are so many ways to eat them! This new creation by our master chocolatier will make you share great moments with family or friends.